Sponsor Highlight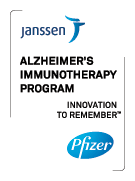 Funding for this month's webinar has been provided by the Alzheimer's Immunotherapy Program (AIP) of Janssen Alzheimer Immunotherapy and Pfizer Inc. The content was planned and developed by Lotsa Helping Hands.

The Alzheimer's Immunotherapy Program of Janssen Alzheimer Immunotherapy and Pfizer Inc. is an equal collaboration committed to delivering comprehensive and meaningful solutions to address the needs of people affected by Alzheimer's disease. We believe it may be possible to reduce the burden of disease through early intervention in the illness. The AIP is harnessing the combined scientific experience, expertise and scale of our respective companies to advance patient care worldwide.


Resources for You
We partner with the nation's leading nonprofit organizations that provide trusted information on a variety of health and caregiving topics that may be helpful to your Community. Learn more by visiting one of them today.


Create
Free, private, Community web sites for organizing friends, family, and colleagues – a family's 'circles of community' – during times of need. Coordinate activities and manage volunteers with our intuitive group calendar. Easily communicate and share updates using announcements, message boards, and photos. Safely store vital information. Create a Community.


Share Lotsa Today!
Finished reading the newsletter? Take a moment to share Lotsa with friends and loved ones.




Dear Friend,

WELCOME TO LOTSA COMMUNITY WORKS

Featured this month:
Stay focused and relaxed this holiday season
Thanksgiving has passed, and it is officially the holiday season. For a lot of us, December is a month filled with holiday parties, trips to the airport to pick up family and lots and lots of shopping. But for others, it's stressful to have all of the duties of caring for a loved one, plus the added stress of the winter and the holidays. There are gifts to be bought, presents to wrap, holiday meals to cook, sidewalks to be shoveled and decorations that need to go up.


At Lotsa Helping Hands, we want to make this holiday season easier for you as you help out friends and family or care for a loved one. All of our Tips and Features this month should make organizing needs easier this year. Head over to our Twitter and Facebook pages and tell us how you're helping a caregiver who means a lot to you, or what you're doing to stay stress-free this holiday season.

Read on for Tips and Features that will help you check off some of the tasks on your list this holiday season and sign up for our December Webinar—Caregiving During the Holidays.

For us at Lotsa, this time of year brings about feelings of gratitude to each and every one of you who have participated in one of our communities. We envision a world where everyone finds meaning in both giving and receiving. So, from our community to yours, please accept our holiday wishes and gratitude for an amazing 2011 and an even better 2012.

From our community to yours,

Hal Chapel, Co-Founder & CEO



LOTSA TIPS AND FEATURES
To help you take care of some of your tasks this holiday season, we have several exciting tips to share—remember, you can always visit our How it Works page for additional ideas on how to get the most out of your Community web site.
Update Contact Info: The end of the year is the perfect time to make sure all of your contact information is up to date and properly listed in your Community. Just go to the 'Me' tab at the top of your screen to update your personal information. And if you're a Coordinator, from the home page you can click on the 'Vital Info' tab on the left side to update any important information about the person you're helping.


Add holiday items to your Calendar: Meals and rides to the doctor's office are among the most common items on community calendars, but there's a ton more to do during the holidays. Consider adding tasks to your calendar—from putting decorations up or taking them down, shoveling a sidewalk and driveway or making trips to the post office to mail packages—so community members can help out with some common holiday tasks.


Share a thought on the Message Board: This is a great time of year to give thanks. Use the Message Board in your private Community to share with fellow members what your Community means to you! After signing in, click on the 'Message Board' button on the left side of your homepage. You can add a new post by clicking the 'Create a new post' on the bottom left side below 'Lotsa Resources for You.'
If you have additional questions, contact us at info@lotsahelpinghands.com.





Want to learn tips for caregiving during the holidays?

This December Lotsa Helping Hands is hosting a Webinar about holiday caregiving. Learn great ideas for holiday caregiving and useful tips about Lotsa Helping Hands. Register today!


Know someone who might be interested in this email? Forward it to them.
Lotsa Helping Hands and the Lotsa Helping Hands Logo are registered trademarks of Lotsa Helping Hands, Inc.
Lotsa Helping Hands, Inc. — 34 Washington Street, Suite 310, Wellesley Hills, MA 02481