Sponsor Highlight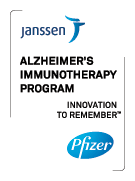 Funding for this month's newsletter has been provided by the Alzheimer's Immunotherapy Program (AIP) of Janssen Alzheimer Immunotherapy and Pfizer Inc. The content was planned and developed by Lotsa Helping Hands.

The Alzheimer's Immunotherapy Program of Janssen Alzheimer Immunotherapy and Pfizer Inc. is an equal collaboration committed to delivering comprehensive and meaningful solutions to address the needs of people affected by Alzheimer's disease. We believe it may be possible to reduce the burden of disease through early intervention in the illness. The AIP is harnessing the combined scientific experience, expertise and scale of our respective companies to advance patient care worldwide.


Resources for You
Lotsa Helping Hands partners with more than 50 of the nation's leading nonprofit organizations that provide information and resources to members of its communities. So, whether someone is caring for a loved one with Leukemia, a wounded warrior who recently arrived home, or someone battling Alzheimer's disease, we've got the resources you need.


Create
Lotsa Helping Hands powers online caring communities that help restore health and balance to caregivers' lives. The service brings together caregivers and volunteers through online communities that help organize daily life during times of medical crisis or caregiver exhaustion in neighborhoods and communities worldwide. Caregivers benefit from the gifts of much needed real-life help, emotional support, and peace of mind, while volunteers receive joy from giving back to those in need. Create a community for yourself or someone you love today.


Share Lotsa Today!
Finished reading the newsletter? Take a moment to share Lotsa with friends and loved ones.




Dear Friend,

WELCOME TO LOTSA COMMUNITY WORKS

Featured this month: Here at Lotsa Helping Hands we have the privilege of meeting so many people who use our service and benefit from the gifts of much needed help. In fact, each of us takes a turn throughout the month to provide support to our members who post a question. Although there are more than 850,000 people who have participated in Lotsa caring communities, each story is unique. This month, as we gear up to launch a special webinar in partnership with the Alzheimer's Association, I am particularly reminded of a story we received as a testimonial while I was taking my turn at our Member Support Center. Margaret and I spoke for about an hour on the phone.

Margaret, a Vice President at a Fortune 500 company had begun caring for her mom with early stage dementia. Within six months, she and her husband moved mom into their home to better manage her care. Within another year's time, she and her husband received devastating news that he had cancer. Margaret's caregiving role changed dramatically.

Remembering Margaret's story is a good reminder about what each of us can do when we see our loved ones, neighbors or colleagues juggling their caregiving responsibilities. More than 65 million people in our country play the role of caregiver. They manage their loved one's care, often are the primary source of communication to family members, and serve as the glue to their loved one's social circles. They organize—taking care of medical appointments, household responsibilities and their own work duties. And, they need our help. Read more caregiving stories.

If you know someone caring for a loved one with Alzheimer's, we've got a very special Webinar planned this month as well as some important tips for Coordinators and Members.

Thanks for reading and passing this on to others you love.

From our Community to yours,

Hal Chapel, Co-Founder & CEO





Lotsa Tips

Every Lotsa Helping Hands Community has Coordinators and Members. Coordinators organize the help. Members are all the volunteers who sign up to help. This month, we're sharing tips for those Members and Coordinators who are coming together to organize help for Alzheimer's disease Communities. Remember, you can always visit our How it Works Page for ideas about how to get the most from your Lotsa Community web site.

Coordinator Tip (Amazing Organizers!):

Update your Vital Information—When managing help for a loved one with Alzheimer's disease (or any medical diagnosis), information is really important. Our Vital Information feature helps keep everything organized. It allows for the safe and secure storage of everything from allergies and health insurance information to favorite foods, music, and television programs. Use this feature to make sure nothing falls through the cracks and to ensure that everyone providing support has everything they need to help.


Member Tip (Dedicated Volunteers!):

Suggest an Activity—While meals and rides are the most common types of Activities we see organized in Lotsa Community web sites, there is no limit to the number and variety of Activities that can be scheduled in the Help Calendar in your Community. Use the 'Contact a Coordinator' link at the bottom of every page to suggest something like a weekly phone call or visit. You never know what little Activity might make a big difference!


Tip for all:

Create a Community—Perhaps you know someone recently diagnosed but who doesn't have any immediate needs. You can set up a Community web site for them today to get organized prior to any emergency. It's always free and there is no limit to the number of Coordinators or Members in a Community. Give someone you care about the help, support and peace of mind of knowing that everything they need is in one place, even if they don't need it now.

If you have additional questions, contact us at info@lotsahelpinghands.com.





Feature of the Month

Each month we host a webinar about a specific caregiving topic and highlight one of our nonprofit partners that has resources for caregivers. In each webinar we also review tips and features of Lotsa Helping Hands. We've got a great archive of webinar recordings if you've missed any of our past webinars.

Check out January's webinar, which featured Suzanne Mintz of the National Family Caregivers Association and February's webinar which featured Sherri Snelling of the Caregiving Club interviewing Sylvia Mackey, wife of the late John Mackey, tight end for the 1971 Super Bowl champion Baltimore Colts and Professional Football Hall of Famer, about her stories and insights from her own caregiving experience. You can watch all of these webinars and more on our webinar page.





Free Webinar March 22 – Caring for a Loved One with Alzheimer's

Lotsa Helping Hands is hosting a webinar highlighting caregiving for a loved one with Alzheimer's. Join us on March 22 to learn common challenges facing caregivers of loved ones with Alzheimer's disease and tips on how to help. Special guests from the Alzheimer's Association will present resources for caregivers. Register today.




Know someone who might be interested in this email? Forward it to them.
Lotsa Helping Hands and the Lotsa Helping Hands Logo are registered trademarks of Lotsa Helping Hands, Inc.
Lotsa Helping Hands, Inc. — 34 Washington Street, Suite 310, Wellesley Hills, MA 02481